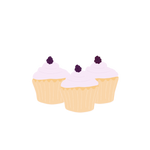 Vanilla Cream Cheese Cupcakes with Black Raspberry Buttercream
We're so excited to share this amazing recipe by Serious Eats with you so you and your littles can bake this Valentine's Weekend! Take a look:
Yield: Makes 24 cupcakes
Active Time: 25 minutes
Total Time: 1 hour
INGREDIENTS
Vanilla Cream Cheese Cupcakes
4 cups / 570 g all-purpose flour
4 teaspoons baking powder
1 teaspoon kosher salt
1 (8-ounce / 230 g) package cream cheese, at room temperature
1 cup / 225 g unsalted butter, at room temperature
2 1/2 cups / 500 g granulated sugar
1/4 cup / 60 ml pure vanilla extract
4 large eggs, at room temperature
1/2 cup / 120 ml canola oil
1/2 cup / 120 ml whole milk
 Black Raspberry Buttercream
3/4 cup / 90 g ripe black raspberries, plus 24 more, for garnish
3/4 teaspoon finely grated lemon zest
3/4 cup / 170 g unsalted butter, cubed and at room temperature
6 cups / 680 g confectioner's sugar, divided
3 to 6 tablespoons heavy whipping cream, as needed
DIRECTIONS
To make the cupcakes, preheat the oven to 350°F / 180°C. Fill two 12-cup cupcake pans with paper liners.

In a large bowl, whisk together the flour, baking powder, and salt; set aside.

In the bowl of an electric mixer fitted with the paddle attachment, beat the cream cheese, butter, sugar, and vanilla until light and fluffy, 3 to 4 minutes. Beat in the eggs one at a time, mixing for 30 seconds between each addition; beat in the oil. Gradually beat in the flour mixture in 3 additions, alternating with the milk, and ending with the flour mixture. Do not overmix.

Divide the batter among the cupcake liners (they should be about two-thirds full). Bake until a toothpick inserted in the center of a cupcake emerges clean, 20 to 23 minutes. Transfer the cupcakes to a wire rack to cool completely before frosting.

To make the buttercream, place the black raspberries and lemon zest in the bowl of a food processor and puree until smooth. Strain the pulp through a fine-mesh strainer into a medium bowl, pressing down on the solids with a spatula to extract as much puree as possible. Discard the seeds and set the puree aside.

In the clean bowl of an electric mixer fitted with the paddle attachment, cream the butter with 1 1/2 / 300 g cups of the sugar and 2 tablespoons of the cream on low speed until combined. Beat in the remaining sugar and the raspberry puree until incorporated. Increase the mixer speed to medium-high and beat until the mixture is very light and fluffy, 3 to 4 minutes, Beat in additional cream, as needed, to achieve the desired consistency.

Frost each cupcake generously with the buttercream and garnish each with a raspberry before serving.
To see the entire recipe, click here!