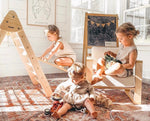 Our Favorite Design Forward Toy Brands
Candy Lab's ethos align very closely with ours. They believe that good design should be attainable by all and are committed to the use of natural materials, with their unique craftsmanship guided by the principles of the mid-century pioneers of modern design.
Wiwiurka's designs pull on inspiration from the Pikler, Montessori and Waldorf approaches to early childhood development to create children's furniture and toys that promote movement and active and creative play. The clean and beautiful design of Wiwiurka pieces fits into any home or play-space, and creates an interactive platform for children to develop gross motor skills and collaboration through play.
Designed by Cas Holman, Rigamajig is built to foster children's creativity, encourage them to ask questions and to work collaboratively through unstructured play. There are an assortment of kits available, and they can be made into a nearly infinite amount of iterations including simple machines.