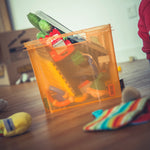 What Materials are Safe for Children?
When it comes to choosing materials, furniture, toys and games for your children it can be a balancing act between choosing to expose your children to A LOT so they learn to navigate their environment and know what's safe and choosing to protect them from potentially hazardous materials. Here is a brief roundup of materials and what to look for and lookout for. 
Plastics 
The positives.
In general, plastics are EXTREMELY safe for children and the standards have gone WAY up over the years. Most brands take safety very seriously which means standards are always increasing.
Watch out for. 
Avoid plastics that are marked with a "3" or "PVC". Polyvinyl chloride plastics can contain additives that can make plastics more harmful.
Bisphenol-A — we all know this plastic as BPA. More than 100 studies have linked BPA to problems including obesity, depression and breast cancer.
Occasionally additional plasticizers such as adipates and phthalates are added to brittle plastics to make them pliable enough for toys. Traces of these compounds can possibly leak out of the product and be absorbed by you and your little one.
Plastics often still contain TRACE amounts of lead, this can be unsafe if the plastic is heated. Plastic toys exposed to extreme heat like microwaving can release the lead. 
A lot of the harmful chemicals, lead and additives are found in antique plastic toys and materials from the 50s, 60s, and 70s. To be on the safe side, buy newer toys that are up to modern safety standards.
Woods
The positives.
We see wood as a sustainable, extremely long lasting, reusable, and beautiful material. Choosing wood toys and furniture for your kids helps to build an appreciation and respect for the environment, particularly as we phase out plastics across the board. Wood is a natural, non-toxic and renewable material making it extremely safe. It is also gaining in popularity so you can now find a wonderful assortment of wooden toys.
What to watch out for. 
The main thing to lookout for when it comes to woods are the treatments to the wood such as lacquer, paints and chemicals. There are still a lot of companies, particularly in the furniture industry that are using toxic finishes and paints. Older and antique wooden toys are of finished less safe chemicals, paints etc.


Metals 
The positives.
Similarly to wood, metal toys are generally very safe but it's the paint and treatment that can be dangerous. 

What to watch out for.
A few things to keep and eye on when it comes to buying or allowing your kids to play with metal toys are rust, cheap metal that has been painted with toxic paints containing VOCs, small metal pieces that can easily be broken and pose a choking risk, and older toys that were made before safety standards for paints or finishes were regulated. 
Paints + Dyes
The positives.
Kids love color. And introducing them to colors at a young age is important for their development. 
What to watch out for.
Volatile organic compounds (VOCs), fungicides and pigments are often found in pains, dyes and finishes. Always choose ZERO-VOC paints or bands that use non-toxic paints and finishes for baby rooms, playrooms, and toys — especially when it comes to items that will end up in your kid's mouth. 
If you do purchase or build something that has paints with some VOCs, air it out well in advance of children using it.
Art Materials
The positives.
Art materials are so fun, and they encourage playful creativity as your children grow. 
What to look out for.

For young toddlers, oil paints and acrylics should be avoided due to the toxic chemical solvents such as they contain. They can be introduced as children mature and are comfortable using the proper tools like paint brushes and smocks. 
For toddlers, start with watercolor paint, finger paint and tempera paints. They are all water-based and don't have harsh chemicals like oil or acrylic paints do. With any paints, it's important to keep in mind that although they are labeled as non toxic, they can still contain very mild irritants to the skin or mouth.
When purchasing crayons choose brands that use natural materials like beeswax and soy wax. Traditional crayons are made from paraffin wax which is made from petroleum byproducts. Color pencils are often made with toxic lacquers, so be sure to read the labels and choose brands that use non-toxic materials.
CONCLUSION 
The safety standards for childrens' products have substantially increased so avoid metal and plastic toys and materials that have been passed down for several generations. Read labels and choose items that natural, finished with non-voc paints and finishes, and choose age appropriate art supplies and toys.