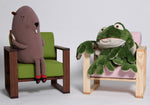 5 Small Children's Furniture Companies with Big Ideas
If you're reading this article, you likely know that we are a kid-functional design company that crafts long-lasting furniture to complement the aesthetic of the home as a whole. Our founder left a career as a chef because his daughter needed a chair that fit into his home, and quickly realized that he was not alone. "The approach I took was that kids should be introduced to design-forward objects at an early age, just as parents introduce different and adult foods at that age as well," David says. "The goal is not to dumb down food or design for children but to elevate their experience in both."
As we've grown, explored the niche of modern, environmentally conscious and design forward kids furniture, we've found we are in good company. Here are a few of our favorite brands to furnish your homes, children's rooms, and nooks with.
Tink Things
Approaching design from a tactile and sensory angle, Tink Things believes "Sensory rich spaces work as a food for the brain, as real learning always involves patterns of physical activity." Their furniture is aesthetically pleasing, playful, chic and forward thinking.
Children can use the chairs in a ton of different ways and suit them to thier needs.
Rafa Kids
This Dutch company understands design, as architects the company's founders have set out to "create unique products to stimulate children's creativity and growth." Rafa Kids creates "Elegant yet playful furniture that will spark our kids' imagination!"
They build and create beautiful and functional furniture for all spaces in your home from beds to shelves and storage.
Wit Design 
Our Brooklyn neighbors at Wit Designs have won multiple awards for their clean, stylish and functional children's chairs, tables and stools.
Their pieces are delightfully neutral, giving the children's imagination plenty of space to fill in the blanks. Their design is as clean and light as is their environmental impact. Wit design takes steps to ensure that sustainability is a priority is all aspects of their design.

Casa Kids
If you are looking for a custom piece to fit into your space, or are looking for a creative way to furnish your children's room and optimize space, Casa Kids has the design and credentials to get you there.
We love their creativity and ability to push the limits in their clean and functional design.

FRANKLIN + EMILY 
We think we've got some good things going as well.
We believe children's furniture can complement the aesthetic of your home, be made responsibly with the planet in mind and be designed and built to last and transition with your children's changing style and needs.
Our chairs (stools and couches) are made with responsibly sourced FSC certified wood and finished with clean, Tried and True, finishes that are free of VOCs and made with all natural materials.
We've chosen durable and easy to clean materials made of recycled materials that come in a wide array of colors to suit your children's style.
And, we've thoughtfully designed our furniture so it is light enough for your children to move throughout your home just as they do.