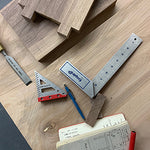 Why Cheap Kids Furniture is a False Economy
Here at Franklin+Emily we value the planet, quality craftsmanship, and good design, and w
e believe that you should be able to purchase a piece of furniture that lasts the duration of your little one's childhood. Something sturdy enough to endure the triumphs and tribulations of childhood and something with a clean and simple design that will transition from age to age and phase to phase seamlessly.
As a chef,
I worked on sustainability and waste-reduction in the kitchen and then took those ideals with me to build children's furniture. As parents, I'm sure many of you make similarly mindful choices about how you purchase food, avoid waste and get creative in the kitchen. Let's bring light to those same ideals and values in the furniture industry, purchase with intention and
move away from the throwaway culture of many of today's cheap kids' furniture manufactures.  Here are just a few reasons we believe you can make a difference. 

A few good reasons to avoid buying cheap kids furniture.
It's bad for the planet. According to the United States EPA, up to 8.5 million tons of furniture waste end up in the landfill each year.

It's not really that cheap. You know the story — it's mass produced and often poorly made, it breaks, you buy it again, and again and

again

– and you wind up spending just as much or more. 

It can be toxic. Many manufacturing practices, paints, and finishes bring volatile organic compounds

(VOCs)

such as formaldehyde, benzene, and other petroleum-based residues into your home.
A few good reasons Franklin+Emily is the children's furniture for your home.
We love the planet and we are doing our best to take the right steps to make it a better place for all of our children. The wood used for our frames is responsibly sourced and milled in upstate New York and our cushion covers are made from recycled materials — we've done the research so you don't have to.

 

Our furniture is built to last with integrity, craftsmanship and quality materials —  so you buy it once. Our

clean and simple design will transition from age to age and phase to phase seamlessly — we hope to see our chairs seating generations in your family and that

your children and your children's children sit, read, imagine and explore in our chairs. 

Our finishes have zero VOCs – no solvents or petroleum residues are present in Tried & True wood finishes so you and your little ones can breathe easy. We did a lot of research and decided it was best for us not to use reclaimed wood because it was difficult to know what finishes had been used on it over the years, and it is important to us to know that we are providing you and your little one with safety and quality you can trust.