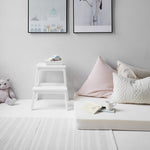 Design Hacks to Keep Your Kid's Room Organized
As a parent, mess is part of what you signed up for and we believe that children should be able to play freely and be creative in their spaces. We also believe that children can enjoy being part of the clean up and we find the following tips and tricks helpful in designing a space that encourages both creativity and participation in clean up and organization.
Use Baskets & Bins
Baskets and bins are available at every price point and come in colors and styles to match almost every aesthetic. They provide a space for toys and games of odd shapes or even clothing to be tucked away when not in use, and because they hide the contents, your little one can toss in their toys and you don't have to worry about lining them up on a shelf.
To keep bins organized label bins with images and icons for the youngster and words as they grow. Using labels and defining locations for types of toys, blocks or stuffed animals teaches sorting and identification skills and can be used as a game when it's time to clean up.
Open Shelving
When it comes to open shelving choose to use the space for items that are frequently used and can be nicely displayed such as books, or the stuffed animals that your little one can't go to sleep without. Open shelving allows favorites to be quickly found without tearing the room apart.

But also, Hiding spots
Incorporate cabinets and places to hide and stash works in progress, collections and less frequented items. This can help to define a sense of pride and ownership over certain projects, and teach how to treat items of varying value and work.
Too much of an open plan can remove the privacy and imagination that some kids thrive on, so having nooks or areas to work and cabinets to store important items can be very valuable for some children.

If you don't have the cabinet or closet space, think about purchasing a few covered bins that can be stored under a bed or somewhere that your little one can access when needed.
Create stations with tasks at arm's length
The key to keeping a playroom or bedroom as tidy as possible is creating stations where everything children need to read, play or create is accessible.
In a reading nook, make sure your Franklin+Emily CHAIR is close to your book basket or shelf and that there is a light nearby. For desks, tables and kids workstations, have drawers, bins or displays with crayons, paper, scissors, pencils, etc at arms reach.

Shallow display shelves
Shallow display shelves are great to cleanly display books and art, keeping what is out at a minimum. They fill wall space elegantly, can be constantly rearranged and they give children agency of the design of the room, if they'd like to put up they favorite book or display a new piece of art they've created.
Easy to Clean Fabrics
This may sound obvious but it makes a world of difference. Choosing materials that are easy to spot clean or throw in the wash eliminates some of the stress of allowing kids to be creative in their spaces.  
Franklin+Emily uses materials that can be easily spot cleaned or thrown right in the washer, so if that snack misses the mouth or other creative pursuits go beyond the paper it's a matter of a spin cycle to get things cleaned up. Encourage your little one to participate in the cleanup and show off their dexterity by removing the cushion from the cover and then squeezing it back in and zipping it up once clean.

Easily moveable furniture
For items such as chairs and small work tables, choose items that are lightweight and can be moved easily by your children throughout your home. Giving them freedom to participate in designing their spaces and the ability to help when things need adjusting.
Choose wisely
One of the most important tips is to choose what you put in your children's spaces wisely.
Choose larger furniture pieces such as chairs and beds that will transition from age to age and fit in with your children's changing taste and aesthetic. A few well built and designed items should be all you need to create the anchors for a room.
This applies to toys and books as well. Choose to put out what is developmentally appropriate and donate items once they are no longer used. Allow your children to participate in choosing what toys bring them enjoyment and which ones they think another kid might enjoy.
To sum it up
Create dedicated spaces for toys, clothes, books and games that fit their function and usage. Don't be afraid to get rid of items, once you've sorted and organized, donate items that are no longer in use or don't have a place in your home. And, encourage your children to participate, give them overship of the space and when it's time to clean up give them the time to do so.