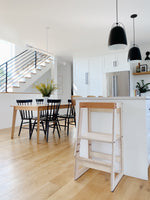 Everything You Need to Know About Toddler Towers
David here, the founder of Franklin+Emily. As a former chef involving our children in cooking has always been important to me, so I designed and built a toddler tower for my daughter to bring her up to counter height so she could safely work in the kitchen and we could both be comfortable with her being a part of the process.
Throughout the design process, I realized that there is a lot of information out there about toddler towers, and I've complied what I've learned though the research and development of the Franklin+Emily Toddler Tower to help fellow parents.
Learning Tower. Step Up Tower. Montessori Learning Stool. Montessori Kitchen Helper Stool. Everything Tower.
There are many names and several styles, but the common theme across these items is that they provide young kids and toddlers with a boost, bringing them to counter height so they can safely and comfortably engage in daily activities. They are often adjustable in height and come with varying levels of side supports to prevent your child from falling. 
Toddler towers are popular among the Montessori community who believe that children are naturally eager to learn, and are capable of learning through real life experiences in supportive and thoughtfully prepared environments. Toddler towers give young children a supportive boost to explore their creativity, engage in everyday activities and gain autonomy in their learning journey.
From our experience as parents, our toddler tower really gave our daughter a sense of independence and confidence by providing a safe platform that brought her to counter height and allowed her to engage. Of course, you could use a stool or a kitchen chair, but the height is never 'just right'. In addition, the added security of the tower sides not only provided her with more comfort but also allowed us to step back a little, giving her space to learn on her own. 
Adjustability. Having a toddler tower with an adjustable platform is very important. This feature extends the life of the stool and provides extra support and security to your child as they grow. Adjusting the platform not only keeps your child at counter height as they grow, but it also keeps the safety strap or frame at a comfortable height so they are safe and secure.
Materials. Not all materials are created equally and it's important to evaluate what materials are used to produce your toddler tower. Look for brands that use natural waxes and finished and responsibly sourced woods that are free of formaldehyde glues. The Tot is an excellent resource for parents to use as they navigate the world non-toxic finishes and kid safe materials as they vet all their brands and sell only products that pass their thorough safety tests.  
Modern Design. A toddler tower should be a fixture in your home that your child feels encouraged to use often, and finding one that complements the aesthetic of your house can also be a very important factor, balancing functionality with clean modern lines that fit into any home. The more you love the look and design, the more accessible it will be since you won't be tucking it away in the pantry or laundry room. 
Toddler towers are wonderful for kids around 2 years to 6 years of age. Depending on size and the child's development, many parents start using Montessori toddler towers around 18 months with more close supervision. Many toddler towers have adjustable platforms, so you can easily change the platform height as your child grows.
Toddler towers create a stable, partially enclosed stool for toddlers, providing a safe step up. Children will still need to be supervised while using a toddler tower, but they do allow parents to step back a little, giving kids more independence and providing parents with the ability to work on tasks along side their kids without feeling like they can't step away for a minute to grab something from the fridge or pantry.
Many toddler towers are foldable or have several sliding parts, so be aware of these pinch points for your child. Our toddler tower comes with easy assembly, providing additional stability and support, it doesn't fold but from our experience and the feedback from our customers it is in near constant use and does not need to be folded or hidden away. 
Absolutely. If you have the tools, skills and desire there are several DIY Montessori Toddler Tower ideas out there. We've read about several parents creating Ikea Hack Learning Towers on budget, and creating creative toddler kitchen helpers from stools and chairs that they have in their homes.