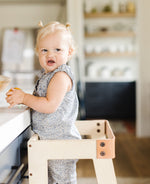 How My Toddler Can Use a Toddler Tower
The uses of toddler towers are expansive, here are a few of the ways we've seen them most commonly used. 
Get in on the action. Kids love to be helpful and a part of the team, bringing them up to your level allows them to be part of the action and gives them more ownership over their space and activities.
Cooking and baking. Most learning towers are found in the kitchen. There are so many activities to involve your children in while in the kitchen, and having them safely at your height allows you more freedom to work with them by your side. 
Helping with daily chores. Sorting and folding laundry, washing and putting away dishes, cleaning windows! My daughter has been cleaning all the mirrors in the house!
Doing arts and crafts. Giving your little one art projects at counter height can keep them engaged while learning by your side while you work on dinner or other daily activities. 
Splashing in the sink. From all that hand washing they are currently doing to bushing their teeth and washing their face, a toddler tower will bring them up to a comfortable height to gain confidence in doing these activities on their own. 
Observing. Learning towers give toddlers a new vantage point, bringing them to your level (or making them taller than their siblings!) can provide a sense of excitement, independence and confidence. 
Finding that secret stash of Halloween candy (or any snack for that matter). It's important to remember that although learning towers provide a more secure step up than a stool or kitchen chair, they still require adult supervision, always. Your little one will have access to items that were once out of reach like knives and the hot stove so it's important to be close by, remove dangerous items if needed and communicate with kids about what they can and cannot do with their new found height and perspective.