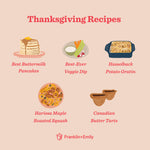 Hi friends! It's already that time of year - Thanksgiving! We are sharing some of our favorite, minimalist recipes with you to try this year if you are looking for some last minute items to add to your menu. Take a look! 
Yield: 14 3" Pancakes
INGREDIENTS
1 C buttermilk

1 egg, room temperature

3 T butter, melted
3/4 C all-purpose flour
1/2 t salt
1 t baking soda
DIRECTIONS
Put the buttermilk, egg and melted butter in a bowl; stir briskly until smooth and blended.
Stir the flour, salt, and baking soda together in a small bowl until well blended.
Stir into the buttermilk mixture only until the dry ingredients are moistened-- lumps are OK.
Heat a skillet to medium high. Grease lightly and spoon out about 3 T of batter per pancake.
Cook until bubbles break on top; flip and cook briefly until light brown on bottom.
Serve immediately with maple syrup. Yum!
INGREDIENTS
1 c. whole milk greek yogurt

1/4 c. mayonnaise
2 tsp. fresh lemon juice
1 tsp. garlic powder
1 tsp. onion powder
1 tsp. Worcestershire sauce
Kosher salt
Freshly ground black pepper
Crackers, for serving
Bread, for serving
Assorted crudite, for serving
DIRECTIONS
Mix all ingredients in a medium bowl and season with salt and pepper. Chill until ready to serve.

Top with more black pepper and serve with crackers, bread, and crudite.
Yield: 6 as a Side
Cooking Time: 1 hour
INGREDIENTS
3 assorted winter squash, cut into even wedges, seeds removed
Olive oil
Sea salt
1 pouch of Haven's Kitchen Zippy Chili Harissa
½ cup maple syrup
1 bunch curly kale, chopped
½ cup pumpkin seeds, toasted
1 lemon
DIRECTIONS
Preheat the oven to 425. Line a baking sheet with parchment
Toss the squash wedges with the olive oil, a hefty pinch of salt, a squeeze (about ½ pouch) of Harissa and the maple syrup
Roast the squash, in a single layer, for about 30-40 minutes
Once the squash is tender and deeply golden, toss it immediately with the kale to wilt it, sprinkle with pumpkin seeds zest the lemon over it
Yield: Serves 4-6
Active Time: 15 Minutes
Total Time: 1 Hour 45 Minute
INGREDIENTS
3 ounces (85g) finely grated Gruyère or Comté cheese
2 ounces (60g) finely grated Parmigiano-Reggiano cheese
2 cups (480ml) heavy cream
2 medium cloves garlic, minced
1 tablespoon fresh thyme leaves, roughly chopped
Kosher salt and freshly ground black pepper
3 to 3 1/2 pounds (1.4 to 1.6kg) russet potatoes, peeled and sliced 1/8 inch thick on a mandoline slicer (5 to 6 medium potatoes; see note)
2 tablespoons (30g) unsalted butter
DIRECTIONS
Adjust oven rack to middle position and preheat oven to 400°F. Combine cheeses in a large bowl. Transfer 1/3 of cheese mixture to a separate bowl and set aside. Add cream, garlic, and thyme to cheese mixture. Season generously with salt and pepper. Add potato slices and toss with hands until every slice is coated with cream mixture, making sure to separate any slices that are sticking together to get the cream mixture in between them.
Grease a 2-quart casserole dish with butter. Pick up a handful of potatoes, organizing them into a neat stack, and lay them in the casserole dish with their edges aligned vertically. Continue placing potatoes in casserole, working around the perimeter and into the center until all potatoes have been added. Potatoes should be very tightly packed. If necessary, slice additional potato, coat with cream mixture, and add to casserole (see note). Pour excess cream/cheese mixture evenly over potatoes until the mixture comes half way up the sides of the casserole.
Cover tightly with foil and transfer to oven. Bake for 30 minutes. Remove foil and continue baking until top is pale golden brown, about 30 minutes longer. Carefully remove from oven, sprinkle with remaining cheese, and return to oven. Bake until deep golden brown and crisp on top, about 30 minutes longer. Remove from oven, let rest for a few minutes, and serve.
Yield: 12 Tarts
Prep Time: 20 minutes, plus chilling time
Cook Time: 15 minutes
Total Time: 35 minutes, plus chilling time
INGREDIENTS
For the Pastry:
1½ cups all-purpose flour
¼ teaspoon salt
¼ cup cold butter, cubed
¼ cup cold lard, cubed (or substitute butter)
1 large egg yolk
1 tablespoon fresh lemon juice
Ice water
INGREDIENTS
For the Filling:
½ cup packed light brown sugar
½ cup corn syrup
1 large, room-temperature egg
2 tablespoons very soft butter
1 teaspoon vanilla extract
1 teaspoon fresh lemon juice
Pinch of salt
⅓ cup currants, sultana raisins, chopped walnuts or pecan halves
DIRECTIONS
Make the pastry: In a large bowl, combine the flour and salt. Use a pastry blender to cut in the butter and lard until the mixture is in very fine crumbs. In a 1-cup measuring cup, use a small whisk or fork to combine the egg yolk, lemon juice and enough ice water to come to ⅓ cup. Gradually drizzle over the flour mixture, stirring briskly with a fork until the pastry holds together. You may need to add a little more ice water to gather up the last of the dry bits. Press into a disc, and wrap and chill until firm. Let stand at room temperature to soften a little before rolling.

Make the filling: Preheat the oven to 450°. In a medium bowl, mix together the sugar, syrup, egg, butter, vanilla, lemon juice and salt until smooth.
On a floured surface, roll out pastry to a ⅛-inch thickness. Using a 4-inch round cookie cutter, cut out 12 circles, rerolling scraps if necessary. Fit into muffin cups. Divide the currants among the pastry shells. Spoon the filling over the currants until three-quarters full.
Bake in the bottom third of the oven for about 12 minutes, or until filling is puffed and bubbly and pastry is golden. Let stand on a rack for a minute; immediately run a metal spatula around tarts to loosen. Carefully slide the spatula under the tarts and lift out to cool on a rack. The baker gets to eat all the tarts that break in transit, or give them as a reward to favourite people.
You can freeze them for a month, or store in fridge for up to a week. Warm to serve.
Happy Thanksgiving from the Franklin+Emily Family! Enjoy these recipes and be sure to tag us on social if you end up making them—we want to see!