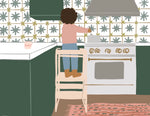 #Acorncrew Cooks With Zoe Maya
Nothing says the holidays quite like hot chocolate! As a part of our #acorncrew IGTV series, we're teaming up with long time friend and exquisite chef, Zoe Maya to make a little Xocolatl! 
When: Wednesday, December 23rd at 3pm PST/6pm EST
Where: Franklin+Emily Instagram Live
Xocolatl, meaning 'bitter water', was the original way of preparing chocolate. It was served as a beverage, often mixed with corn and spices. It wasn't sweetened or mixed with dairy until arriving in Europe, centuries later. This is a modern adaptation, unsweetened and slightly spiced with chiles (optional!), vanilla, and Mexican cinnamon.
Ingredients:
2.5 cups water
1 whole chile
1 tsp vanilla extract or paste
2 cinnamon sticks
8 oz dark chocolate (at least 70%), chopped
Directions:
1. In a small saucepan, bring water and spices up to a simmer.
2. Remove spices with a slotted spoon or tongs and add chocolate.
3. Bring back to a simmer, whisking continuously. As soon as the mixture comes to a simmer and thickens, remove from heat and transfer to serving cups.
We recommend pulling up your Toddler Tower, assembling all of these ingredients and making this with your tiny chefs this week as a fun at-home activity! Let us know if you need any tips and we can't wait to see what you come up with. Happy Holidays from the Franklin+Emily Team, enjoy!