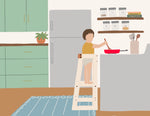 #Acorncrew cooks with Fany Gerson
Throughout our #acorncrew series we will be conducting + posting interviews with our guests and hosting short Instagram live videos with recipes, activities and conversations. Our second episode features Fany Gerson, who shares with us sweet stories of tradition, quality time, and making new memories with her son, Gael. 
Read on for a conversation with Fany + a quick and easy quesadilla recipe to make at home — and tune in on Instagram on Nov 5th at 7PM EST to watch Fany + Gael cook up a storm with our host. 

Tell us about a food that reminds you of your childhood. Is it still something you enjoy now?
FG: Soup, particularly Mexican alphabet and fideo soup. I still love them and make them all the time, and fresh tortillas. Of course I still eat a lot of those, and in normal times (when I go to Mexico more often) I always bring some back in my suitcase to keep in the freezer
What is the first dish you remember cooking? Who taught you to make it?
FG: I don't remember what the first one was but I do remember my mom had these books that for some reason she would keep under the sink that had a lot of American classics, and my sister and I would love to make brownies out of them . I also remember helping my mom make breakfast milkshakes :) 
What does the term "breaking bread" mean to you, and how would you explain it to your child? 
FG: To me it means sharing. Sharing not just a meal but time with one another, to enjoy each other to have all sorts of conversations and to listen. I think that the best way to explain it for Gael is to live it by example. In Mexican culture, for example, there's a lingering that happens after a meal and there is a name for that. It's called 'sobremesa' and it's one of the things I miss most from home . I hope to instill that in our son.
What's something your family cooks together often, and where did that recipe come from?
FG: As I cook for a living and have a very tiny kitchen where honestly we don't all fit into at the same time, there isn't something we do often as a family, but my son who is almost two and a half is more interested day-by-day and got him his own kid-friendly knives and a dinosaur apron, and I just have him help me do whatever we're doing.
How do you incorporate new foods into your child's diet? Any tips for parents of more particular palates?
FG: When I was growing up we never had a separate menu or disliked vegetables. I think the best advice is to expose them to things, to involve them in the cooking process and not impose your own ideas of what they might or might not like. 
Can you share a favorite cooking project that's easy to make for a little one?
FG: Honestly anything that involves their hands, and they can have a lot of steps . Baking is great and my nieces who live in London do it all the time. The younger one, Luna is hilarious and my sister does #lunabakes every Friday, and I look forward to it every time. Baking sweet and savory is fun, but also a great way to explore different flavors and traditions from around the world or perhaps try something they don't normally like. I also think anything like a salsa with a mortar and pestle is great fun as well as dumplings or any filled dough. Honestly, almost anything and everything can be fun and easy as you can include them in different steps depending on their age. I actually LOVE teaching, especially kids and I've always wanted to have a cooking school or offer classes for kids...hey, maybe someday! :)
Show us your fridge! Tell us about how you stock the pantry and fridge for the week. 
FG: These are the things I always have on hand:
LOTS of fruit! (of course that's not always in the fridge per se depending on the fruit jaja)
limes
mustard
eggs
nonfat plain yogurt - I like the kind that's very tart and "thin"
cucumbers
fennel
tortillas
black beans
salsa
Since the pandemic started, we pivoted our business and have been doing savory homestyle meals which has kept our fridge filled with all sorts of soups and delicious Mexican food.
Simple Quesadillas

Quesadillas are a wonderful, easy food to make with little ones. They can help fill and fold as you cook, and they also love to tear and shred cheese. Counting the tortillas is a fun way to practice your numbers, too!
Serves 2

Ingredients
4 corn tortillas
3oz queso oaxaca, asadero, or another melty white cheese

Instructions
1. Heat a cast iron skillet over medium high. Lightly warm each tortilla (this will make it flexible, and easier to fill and fold) for about 15 seconds or so per side.
2. Stack the warmed tortillas and tuck them into a clean kitchen towel or tortilla warmer until ready to fill. At this point, you could also gather any desired fillings such as: left over roasted vegetables, stewed beans, or shredded meats. Plain cheese is just fine too :) 
3. Fill each tortilla with a sprinkling of cheese (and any desired fillings) then fold in half and set into the hot skillet.
4. Flip quesadilla after about one minute, once the cheese starts to melt, so that both sides get evenly crisp and everything is warmed through and melted together. 
5. Carefully remove from skillet. Serve as is or with your favorite salsa, guacamole, and a smile!

Thank you so much Fany!