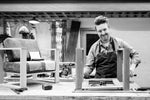 Children's Sustainable Furniture for Today's Parent
As a company that makes sustainable furniture for your children, we believe it is our responsibly to make brand decisions that will benefit your kids' comfort on the planet for generations to come. Your #acorncrew members guide our sustainability strategy, each design and business decision is thoughtfully evaluated to ensure we make the cleanest decisions possible for you.
As parents, we know the health and safety of your children is your number one priority, which is why we use materials that you can feel confident about having in your home.
When we evaluate and choose the materials for our collections we first look at the quality and sustainability and then at price. This means that a lot of the materials we use will have less expensive counterparts, but those counterparts would not be able to stand up to our standards of quality, durability and safety. Although it means a higher price point for you and lower margins for us, quality is never something we were willing to sacrifice on. 
Safe for your children, home + family.  We use finishes that are made of natural ingredients that are solvent free, contain zero VOC's and are safe for food contact. Our baltic birch is certified by the California Air Resources Board (CARB), ensuring that the bonding is free of toxic chemicals such as formaldehyde. And, our leather is dyed with natural plant dyes and tannins. 
Designed with your planet in mind. We use an ultra-microfiber material that is made with partially plant based polyester using non-edible plants, it's not 100% renewable but the company is working hard to get there. Our vegetable tanned leather uses natural plant dyes and tannins, eliminating toxic waste water that is produced in non-vegetable tanning processes. Our packaging is made from 100% recycled material and we hope you'll give it one more use — if you build, play or create a masterpiece with your box, take a picture and post it, tagged with #almostfullsize #playoutsidethebox. 
Easy to clean. An important part of reducing the cycle of waste is creating something that is functional, durable and easy to maintain. It's important to us that our frames, leathers, and fabrics can be cleaned and maintained so they look beautiful in your home for years to come.
As conscious consumers you know that it is not enough to use sustainably sourced materials. We couldn't agree with you more, and as a business that procures, fabricates and ships physical goods, we use precious resources and create pollution — and it's our responsibility to do what we can to offset these actions.
We are certified Climate Neutral. This means we have measured, reduced, and offset our entire carbon footprint generated by making and delivering our products. This is not a one-step solution for us, but rather an ongoing process. Each year we strive to reduce our footprint and need to develop an action plan and hold ourselves accountable to it. Learn more and see other companies that are joining us on this mission. We excited to be in such great company!
You plant trees with every purchase — with a partnership with One Tree Planted you give back to the environment, create a healthier climate, protect biodiversity and help reforestation efforts around the world.