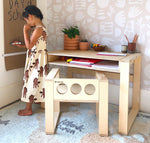 Tips for Creating the Perfect Back to School Environment for Remote Learning
Back-to-school is looking a little different for many of us this year. As we make the transition into remote and virtual learning we know how important it is to create a work and learning space for kids that provides an environment that encourages them to learn, explore and create.
Setting up an at home learning environment doesn't require a lot of room, but creating a dedicated space and getting your kids to help with the set-up and design can empower and encourage independence and ownership in their remote learning journey.⁠
We've teamed up with Angela Tafolya of Lonny Magazine to chat about how she created a virtual learning nook in her daughter's room, what aspects were important in designing the space, and how her daughter, Tallie, made it her own.
Why was creating a personal space for Tallie to work and learn important to you? 
Tallie starts Kinder this year, which is such a big deal! She's been looking forward to it forever, but of course, with schools starting with virtual learning this year, having the experience of a first day at a new school was off the table. Additionally, I've been reading about how to set your kid up for success with distance learning, and almost everyone suggests having some kind of dedicated area is key. We wanted her to feel empowered and inspired by having her own little desk and space and wanted to wrangle papers, tools, and the mess that comes along with it. 
What were some of the elements that you wanted to include and why were they important to making the space feel special and intentional?
I wanted it to feel personal to her and have it take up a small amount of space. We thought about where the best place in the home was to place it and decided to make this funky nook in her room into her official "office." It worked out perfectly and we were able to have her involved in the design and DIY process. It allows enough space to work, see her schedule, and have privacy when she's on a Zoom. We wanted to make sure there was enough space for wallpaper, a roller, books, and plenty of light! 
Working with a small space can be intimidating for many parents who want to create a dedicated learning environment — What tips do you have for parents looking to create a "school room" within a bedroom or small nook in the house?

Definitely! We thought of a few spaces it could have worked in, but ultimately landed on an underutilized corner in her room. With each space we considered, we looked at the amount of space it would take up and how we were currently utilizing it. Previously, the nook housed her toys, but we just moved the box to opposite wall. We looked for a good amount of wall space — we wanted to make it feel distinct and personal with wallpaper, as well as having enough room to hang a roller to write and post her schedule. You really only need a small footprint but having it up against a small wall, to us, seemed like the best call.
What aspects of remote learning are you both looking forward to this year?

We officially had our first day this week! This is our first experience with distance learning (she was in pre-school in the spring) so we are finding our groove with all the moving parts. Tallie is officially a Kindergartener which is very exciting for her (and me!). I personally am looking forward to the new experience (challenge?) of being there to help her out during this transition. She is jazzed about the school supplies and can't wait to learn how to read!
Why was it important for your daughter to be a part of the design process?

She is the one spending her time here and I wanted it to feel like something she was also excited about and had a hand in designing, as well. We showed her the desk before it arrived and had her pick out (and help install haha) the wallpaper — she was very excited about it. She loves rearranging (like her mama) and came up with some fun ideas on where to place things on the desk!
Have you used the desk yourself?!

Ha - yes, actually! With a little one learning how to read, the workbook assignments need someone there, I pulled up a chair right alongside her! 
Design: Angela + Tallie Tafoya 
Furniture + Accessories: Franklin+Emily, The Sill, Chasing Paper, Noble Carriage, East Fork, Here Wee Read, Lorena Canal, Gathre.